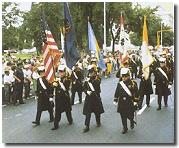 On October 2nd, 1881, a small group of men met in the basement of St. Mary's Church on Hillhouse Avenue in New Haven, Connecticut. Called together by their 29 year old parish priest, Father Michael J. McGivney, these men formed a fraternal society that would one day become the world's largest Catholic family fraternal service organization. They sought strength in solidarity, and security through unity of purpose and devotion to a holy cause: they vowed to be defenders of their country, their families and their faith. These men were bound together by the ideal of Christopher Columbus, the discoverer of the Americas, the one whose hand brought Christianity to the New World. Their efforts came to fruition with the incorporation of the Knights of Columbus on March 29th, 1882. They were Knights of Columbus.
Over 125 years later, the Knights of Columbus has indeed become the world's largest society of Catholic men with 1.7 million members in more than 13,000 active councils throughout the world. Our council was founded in 2004 and has over 50 members serving St. Joseph parish and the Auburn community. Our first chaplain, Rev. Lawrence Esposito, gave our council its unofficial motto: "What we do, we do for the glory of God." It's a fitting reminder of our duty as Knights of Columbus to our God and his Church.
Pope John Paul II, in a greeting addressing the Knights' centenary celebration in 1982, wrote "As Catholics and as Americans, as Knights of Columbus, you have a responsibility which is quite special". We are, he continued, "The Knights of the Church, the Knights of the noblest causes of mankind".


As a member of the Knights of Columbus you and your family enjoy many benefits, including 12 free issues annually of Columbia magazine, the world's largest Catholic family magazine, eligibility to join the Knights of Columbus top-ranked life insurance program, and many more family and personal benefits.


Membership in the Knights of Columbus is open to practical Catholic men in union with the Holy See who are at least 18 years old. A practical Catholic is one who lives up to the Commandments of God and the Precepts of the Church. Application blanks are available from any member of the Knights of Columbus.
As a Knight, you can become as involved as you wish. Just remember that the Knights of Columbus offers an opportunity for fellowship with men who share the same beliefs, and who recognize the same duty to God, to family and to our neighbors at home and around the world. Click here to see a video illustrating what it means to be a Knight.
If you are interested in joining the Knights of Columbus or transferring membership to our Council, please contact our Membership Committee at membership@monsignorneary.org for more information.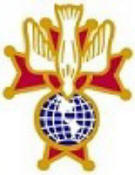 Any Third Degree member in good standing, one year after the anniversary of his First Degree, is eligible for membership in the Fourth Degree. The primary purpose of the Fourth Degree is to foster the spirit of patriotism by promoting responsible citizenship and a love of and loyalty to the Knights' respective countries through active membership in local Fourth Degree groups (called "Assemblies"). Certain members of the Fourth Degree serve as honor guards at civic and religious functions, an activity that has brought worldwide recognition to the Knights of Columbus.


The Ladies Auxiliary's main function is to support the men and the council. They do this primarily by providing help at events, cooking for events and providing monetary help. They also generally do help with setting up and beautifying the council quarters for events.


Under the guidance of Christian Brother Barnabas McDonald (1865-1929), the first Columbian Squires circle was instituted in 1925. Membership in the Squires is for Catholic boys between the ages of 12 and 17. Squires' activities are many, varying from spiritual to active service for the Church and community. Each circle elects officer members from their own rank, teaching skills of leadership and responsibility.